Disaster Recovery Planning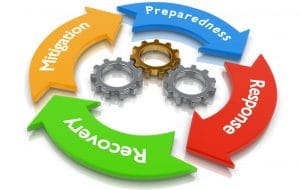 What would your first steps be if tomorrow everything just stopped working? Do you have backups? Do you have a Plan B? (or even a Plan A?) – Have you considered the impact on your bottom line if you were to have a day of downtime? – Or even just an hour? Disaster recovery planning is important – but so is looking after your customers now. We can assist to map out a disaster recovery course of action for your business. Hint: This is best done before a disaster.
Don't be a Statistic
Only 30% of businesses claim to have a fully documented disaster recovery plan in place. 65% of business suffer financial losses of between $1000 and $5 million for each unplanned outage in their organisation. The thing is, that disaster recovery planning isn't hard, it's just something often takes a back seat to more pressing business priorities. A troubling statistic is that 40% of businesses do not re-open their doors after a major disaster.
Our Disaster Recovery Solutions
We can help. Our team have implemented disaster recovery plans and preventive measures for a range of our Perth customers across different business sectors. Our team has the experience and understanding to think outside the box and identify threats and risks to your business continuity. It's important that all aspects of your business are covered and that the plan be tailored specifically for the mission critical elements of your operations.
It Pays to be Proactive
It's been shown time and time again that the Return on Investment (ROI) of recovery planning is well worth the time and effort. But armed with this information, 2 out of 3 businesses still don't do it. Let us take care of this.
Contact us today on 08 6467 0000 to get a comprehensive recovery plan for your business.