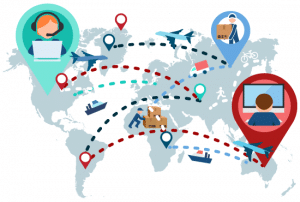 Businesses operating in the Wholesale & Logistics sector face a unique set of challenges in their day-to-day operations. Reliable and fast connectivity is crucial for communicating both within the business, and with suppliers or clients. IT House has many years of experience working with customers at all levels of the supply chain. From warehouse to delivery, find out how quality IT support can help give your business a competitive edge.
Storage & Warehouse IT Solutions
When you manage large quantities of product it's easy to resort to old school methods of managing data and information, often due to the complexity of your business procedures. Something as simple as improving WiFi connectivity in your warehouse could significantly improve the workflow and efficiency of your operation. Easy and flexible management of shared mailboxes and the ability to support line-of-business specific software are just a few other ways we can help.
Thinking about taking the plunge and going paperless? If so, we can help set you up and provide quality support and training. Do you just want things to work first time, every time? Because we've got you covered! Whether small or large, we can customise our support to fit your business needs.
IT for Transport & Logistics
Being on the road no longer means being disconnected. Remote connectivity and mobile device support are both critical to ensuring you keep ahead of the game. Your employees can call us for assistance whether they are in the office, on the road, at the warehouse or overseas. At IT House, we understand that when speed is a priority in your business, communication is key. Our support staff are friendly and professional, and they won't waste your time. Don't believe us? Call us and find out!
Are you in the supply-chain industry and need IT advice? Call 08 6467 0000 for an obligation free chat.